Class is back in session!
To keep your whiskey game on point we tapped Barleycorn contributor Robin Robinson who compiled excerpts from his book, "The Complete Whiskey Course: A Comprehensive Tasting School in Ten Classes." Part III explains in broad strokes the process in which whiskey is produced from the raw ingredients to final distillate with an emphasis on the history and process of fermentation.
The stills at Starward Distillery. Photo courtesy of Starward.
To make whiskey, you need three ingredients: grain, hot water, and yeast. That's all. The water breaks down the grain and steals the sugar from it. Then the yeast eats the sugar to create alcohol. Technically it's a beer, typically not drinkable, but one that supplies necessary alcohol to start, around 7% to 9%. To get to whiskey, you put that beer in a pot, one preferably made of copper, as it distributes heat very well and cleans the beer up a bit.
Then a fire is lit under that pot to agitate the beer and get it roiling, but just enough so the alcohol starts to evaporate and turn into vapor before the water does the same. That vapor is then captured by sticking a second pot upside down on top of the first, so the whole thing looks like a weird pear. A copper tube running from the top of the top pot then collects the vapor and allows it to trickle out. To speed up the process, the copper tube is run through a tub of cold water, cooling off the hot vapor so the liquid drains out in a flood.
Because we've been distilling this way for about 900 years, we know the first liquid that comes from that cold pipe is so high in alcohol it's capable of burning out our insides or disinfecting a wound. It gets collected and put aside. Then the alcohol level drops a little and that next batch is the keeper—it goes into a different jar. But if it pours out too long, the alcohol will drop even further and the liquid will get foul and smelly—that part goes into a third container. The liquid from the first batch and the third can be then put back into the copper pot and the whole process gets repeated until there is nothing left.
Boil, capture, and separate. That is how you make whiskey.
The fermenters at Peerless in Louisville. Photo courtesy of Kentucky Peerless Distilling.
Fermenting is a form of decomposition of organic material. The idea of a fermented beverage has been around for so long that historians and anthropologists have concluded that we as a species would not have survived without it. Early hunter/gatherer tribes learned that natural yeasts broke down the sugars in their fruit, leading to a light form of ethanol. It also created a different flavor that we became evolutionarily sensitive to, a sour taste.
As the tribes became more acquainted with this flavor, they became aware of a certain kind of potency associated with it through the alcohol. It provided a temporary and slightly elevated sense of reality to any who ingested it. That altered reality begat the roots of mysticism, the first plumbing of the consciousness by early homo sapiens out of the time and place in which they existed. Fermented beverages were eventually used in rituals that developed into religions and philosophies—they became the centerpiece of communal life.
Once mankind cultivated plants and domesticated the animals around them, fermented beverages took on another role. Sedentary life in an agricultural society led to the overuse of land and water sharing with beasts of the field, which spawned the first gastro-intestinal bugs.
Over time, people began to understand that drinking something fermented instead of water (or mixed with water) mitigated the danger of bacterial infection in some cases. It was a form of magic, of power over the world they lived in, an early form of control over one's environment. It became ritualized and integrated into everyday life. Over the arc of time, fermented beverages helped bring us to this moment.
Want to become an instant whiskey expert? Buy The Complete Whiskey Course Today!
The Complete Whiskey Course, by Barleycorn tasting judge and contributor Robin Robinson, is a comprehensive but entertaining whiskey education rolled into ten "classes," all in one book. Voted Best Whiskey Book of All Time by Book Authority, if you love whiskey, this belongs on your shelf, and should become well worn and heavily earmarked.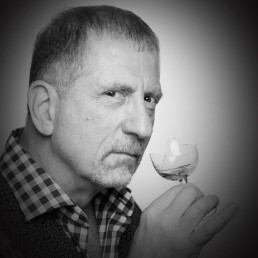 Robin Robinson is the author of The Complete Whiskey Course: A Comprehensive Tasting Guide in Ten Lessons, released in 2019 and winner of the 2020 Gourmand Award for Spirits Education. Robin created and teaches the popular "Whiskey Smackdown" series of classes at New York City's renowned Astor Center, the longest running whiskey education class in the U.S., now in its 11th year.