Class is in session! To continue to keep your whiskey game on point we've asked Barleycorn contributors Peggy Noe Stevens and Susan Reigler to compile excerpts from their book, "Which Fork Do I Use With My Bourbon?" Part I explores how to do a proper bourbon tasting.
Vanilla or Caramel. Cherries or peaches. Cinnamon or nutmeg. Almonds or pecans.
These may sound like choices for a recipe, and in a way, they are. These flavors and many, many more are commonly detectable in bourbon. Distillers carefully craft their spirits with certain flavor profiles in mind. A bourbon tasting can offer a tantalizing mix of mystery and hints of the familiar. We all know how an apple tastes, but would we expect to encounter that flavor in a glass of whiskey?
With decades of experience introducing people to bourbon, we know how to heighten your senses. Everyone comes to the table with food memories, and the flavors encountered in bourbon are those from your fruit bin, bread box, spice cabinet, and secret cache of candy. Whether you and your guests are new to bourbon or seasoned enthusiasts, your party will be energized by a bourbon tasting. Participants will debate which fruit, nut, and spice flavors they can detect. One person's apple may be another's pear. Which is a better descriptor, corn or corn bread? Your guests will ask questions. They will vote on favorites. In short, they will have a great time, and your party will be talked about for weeks or longer.
All bourbon is whiskey, which is defined as a distilled spirit made from a fermented cereal grain or a "beer." The beer is distilled at no higher than 190 proof, and then the spirit is placed in an oak container to age. Once it is removed from the oak, whiskey must be bottled at no less than 80 proof. That's the definition of basic whiskey (or in Scotland, whisky). Different styles have various recipe, proof, and aging requirements.
In 1964 Congress declared bourbon "a distinctly American product." Just as a sparkling wine made outside of the Champagne region of France cannot be called champagne, corn-based whiskey made outside of the United States cannot be called bourbon. Here's what has to happen for a whiskey to be bourbon:
• It has to be made from a mash bill (recipe) of at least 51 percent corn. Most bourbons are about 75 percent corn. Other grains (called "smalls") such as malted barley, rye, and wheat may be used as well.
• Bourbon cannot be distilled at higher than 160 proof.
• Bourbon must be stored in a brand-new charred, white oak container (almost always a 53 gallon barrel) at no more than 125 proof. Only pure water can be added to adjust the proof. No other additives are allowed. (In Scotland and Canada, distillers are permitted to add caramel coloring to whiskey.)
• Bourbon has to be bottled at a minimum of 80 proof (40 percent alcohol by volume).
• Bourbon has to be a product of the United States.
Bourbon has no age requirement. As soon as the distillate touches the wood of the barrel, it is "bourbon." There are, however, some rules about aging that must be followed for whiskey to qualify as "straight bourbon": the bourbon has to be aged for at least two years in a new oak container (almost always a barrel, but sometimes smaller than the standard 53 gallons). If the distiller wants to bottle the bourbon without an age statement, the whiskey inside has to be at least four years old; otherwise, the label must state the time spent aging, such as "Two Years, 16 Months." You may see a label that says "Bottled-in-Bond." This designation dates from a law
passed in 1897 to ensure whiskey quality. The short version of the law's provisions is that the whiskey must be made at a single distillery (not sourced from several different distilleries and batched), made during a single distilling season (six months), aged no less than four years, and bottled at no younger than four years old.
For a basic tasting, you should probably have no more than three bour- bons. Even two can work well, especially if they have very different flavor profiles. The recipes for bourbon fall into three major categories: traditional (corn making up three-quarters to four-fifths of the mash bill, with rye and malted barley constituting the rest), wheated (wheat used in place of rye in the mash bill), and high rye (corn percentage only about two-thirds). Here are some examples:
Blanton's
Buffalo Trace
Evan Williams
Knob Creek
Michter's US
Wild Turkey
Woodford Reserve
Larceny
Maker's Mark
Old Fitzgerald
Rebel Yell
W. L. Weller
Basil Hayden
Bulleit
Four Roses "B" recipe
Old Grand-Dad
Redemption
Of course, all bourbons are distinctive, but most people will be able to notice marked differences when you choose bourbons from two or three of these categories.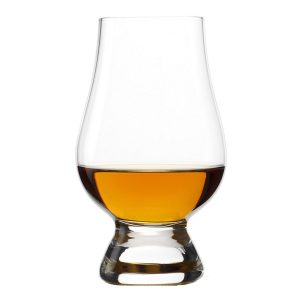 Tulip-shaped glasses are preferred, whether you use small wineglasses or Glencairn whiskey glasses. The bulb shape helps release the aromatics in the bourbon, and the relatively narrow throat or chimney traps and concentrates them near the lip of the glass.
If you are hosting more than a handful of guests, you may want to pro- vide just one tasting glass to each participant. Each person should rinse her or his glass with water between tastes and drink the water, which serves the dual purpose of cleaning the glass and cleaning the palate. Plus, one glass per person means less glassware to be washed later!
In addition to reserving a space for each sample, the mats can provide information about each bourbon, such as distillery, proof, and mash bill.
Depending on the tasters' level of experience, you can use either a basic mat (see example below) or one with more detailed information.
"We have two choices tonight—bourbon or bourbon.
What's your pleasure?"
Want to become an instant whiskey expert? Buy "Which Fork Do I Use with My Bourbon?: Setting the Table for Tastings, Food Pairings, Dinners, and Cocktail Parties" Today!
A good bottle of bourbon should be enjoyed in good company. During their travels in bourbon country and beyond to conduct tastings and seminars, entertainment experts Peggy Noe Stevens and Susan Reigler often heard the question, "How do I do this in my home?" This book is their definitive answer. Which Fork Do I Use with My Bourbon? offers a step-by-step guide to hosting a successful bourbon-tasting party complete with recipes, photos, and tips for beginners and experienced aficionados alike.
From decorations to glassware, this one-stop resource will guide readers from the day they mail invitations to the moment they welcome guests through the door. Alongside their favorite snack, entrée, dessert, and cocktail recipes, Stevens and Reigler offer expert tricks of the trade on how to set up a bar, arrange tables, and pair recipes with specific bourbons. Once readers are ready, Stevens and Reigler move on to advanced pairings for the bourbon foodie and present two innovative examples of tasting parties- a bourbon cocktail soiree and, of course, the traditional Kentucky Derby party. Inspired by the hosting traditions of five Kentucky distilleries, this book will introduce casual fans to bourbon-tasting methods and expand the expertise of longtime bourbon enthusiasts.
Trailblazer, founder, hall of famer, are words that describe the impact of Peggy Noe Stevens' career. Her accolades include being the world's first female Master Bourbon Taster, founder of the nationwide organization Bourbon Women, and a member of the Kentucky Distillers Association and Whiskey Magazine Halls of Fame. Peggy's lineage goes back to some of Kentucky's great bourbon-making families. As a master taster, Peggy understands the production side of the business, but she has made her mark as an innovative leader in hospitality, entertainment, and experiential marketing. She was a long-time global event planner at Brown-Foreman before establishing her own marketing company. During her career, Peggy has worked to shape iconic brands like Jack Daniels, Woodford Reserve, Southern Comfort, Beam, and Sonoma-Cutrer wines.
Former restaurant critic and beverage columnist for the Louisville Courier-Journal, Susan is bourbon columnist for Food & Dining and Covey Rise magazines and also writes for Bourbon+, LEO Weekly, and American Whiskey (tasting notes and ratings). Susan has authored or co-authored six books including Kentucky Bourbon Country: The Essential Travel Guide, The Kentucky Bourbon Cocktail Book, The Bourbon Tasting Notebook, and The American Whiskey Tasting Notebook, and Which Fork Do I Use with My Bourbon? – Setting the Table for Tastings, Food Pairings, Dinner, and Cocktail Parties. Susan is a member of the Order of the Writ, former president of both the Bourbon Women Association and the Kentucky chapter of Les Dames d'Escoffier International, an organization of women culinary professionals.